Mackinac Seaplane Tours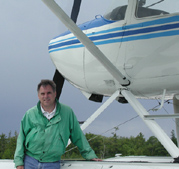 Over the course of the water flying season, I make it a point to treat as many people as I can to a seaplane ride.
For some of you, this may be your first flying experience, let alone taking off and landing on the water.
For others, it may be an annual affair. Whatever the case, it is very important that we at Mackinac Seaplanes make this a very exciting and safe experience.......
As chief pilot of Mackinac Seaplane Tours I bring over 45 years of flying experience, of which 40 years is in seaplanes.
I bring more then 3800 hours of flight time and hold a Commercial Pilot Certificate for Single and Multi Engine Airplane, Instrument, and Flight Instructor ratings.
Water flying is an experience which you will never forget.... there is nothing else like it....